REPAY Achieves Full Certification for Acumatica 2021 R1 Payment Processing in Just Over One Week
If your company is looking for an expert team to handle your Acumatica 2021 R1 payment processing, look no further than REPAY. For the second year running, REPAY has been honored with 2 MVP awards, and our cutting-edge payments processing solution achieved compatibility and certification within just over one week after the release of the latest Acumatica version.
What Is an Acumatica MVP and Why Does That Matter?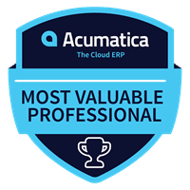 An Acumatica MVP is an individual recognized for the significant contributions they have made to the Acumatica community, in terms of time, energy, and support. REPAY is pleased to announce our 2 multi-year Acumatica MVPs:
A Product MVP demonstrates superior knowledge about Acumatica Cloud ERP. They also contribute to the success of the community at large by actively participating in growing and improving the cloud ERP by freely offering encouragement and advice to Acumatica users.
A Developer MVP is recognized for their outstanding knowledge about the Acumatica Cloud xRP platform(the bedrock that Acumatica ERP is built on). They contribute significantly to the success of the Acumatica developer community through blog posts and also demonstrate leadership and encouragement on developer platforms such as Stack Overflow and GitHub.
It is a rare honor for a company to have both a Product MVP and a Developer MVP. This distinction demonstrates that REPAY is not only the team to trust for unbiased, helpful advice and support for Acumatica ERP, but also for unparalleled integration and functionality on the Acumatica platform. Congratulations to Patty Benitez and Robert Waite for their outstanding achievement! For these incredible team members, Acumatica 2021 R1 payment processing integration is only a small part of the true value they offer to REPAY clients.
How Does the Acumatica Certification Process Work?
Certifying on the latest Acumatica version is no easy task. Certified applications must:
Meet Acumatica's security standards
Work seamlessly within Acumatica ERP
Deliver data consistency within the Acumatica environment
Guarantee compatibility with the latest ERP version
Verify that the solution has been developed by certified Acumatica developers and contains all necessary product documentation
To certify as an Acumatica 2021 R1 payment processing solution, REPAY also had to follow a new set of certification guidelines and was required to meet compliance within 30 days.
As a leading Acumatica payment processor, we here at REPAY challenged ourselves to deliver faster compatibility to serve our clients better – and we are proud to say that we succeeded with flying colors. REPAY was not only compatible with the latest Acumatica ERP version, we also made it through the full certification process in just over one week, all while adding Acumatica POS support to our solution. We are also proud to say that REPAY is now the first certified credit card plug-in for Acumatica 2021 R1.
What Else Should You Look for in Your Acumatica 2021 R1 Payment Processing Solution?
As an Acumatica user, you already know that the ERP's twice-yearly releases can always be counted on for big benefits and impressive new capabilities. To fully leverage these advantages, it is critical that you choose a payment processor you can trust to be fully compliant and certified with the latest Acumatica ERP version.
However, you deserve more than just an up-to-date certified solution. A lot more. To be the best payment processor for your company, REPAY delivers:
Reduced payment processing fees and next-day funding available
REPAY ClickToPay online payments portal for payments right from the invoice!
Flexible ACH capabilities to cut your costs significantly
Acumatica Level 3 Credit Card Processing integration for lower merchant fees
Multi-currency capabilities
The latest cutting-edge credit card security tactics
No installation, setup, or maintenance fees
PCI-DSS compliance assurance
24/7 reporting and live customer service, plus daily automated batch reporting
One of the most efficient Acumatica credit card processing solutions in the industry
Get started with REPAY today to experience the benefits of switching to truly seamless Acumatica-integrated payment processing.