REPAY has published a free Guide to B2B Payments and Integrated Level 3 Processing to help business-to-business (B2B) merchants understand the benefits of Level 3 processing.

The B2B payment industry is unique from business-to-consumer (B2C) payments, and the needs of B2B-driven organizations have evolved through the years. As many businesses have learned, it pays to understand and take advantage of Level 3 processing for B2B payment transactions.
Maybe you're wondering how to improve cash flow - taking advantage of Level 3 rates can help!
What is Level 3 Pricing?
Level 3 B2B payment processing can lower processing rates on qualifying Business-to-Business (B2B) and Business to Government (B2G) transactions.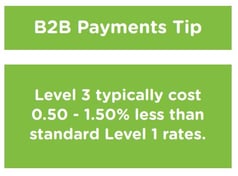 These savings are realized because qualified Level 3 transactions use lower interchange rates than Level 1 and Level 2 transactions. Choosing the correct processing level for any transaction simply requires insight into transaction data. More information given to the card brands provides better protection against fraud. Level 3 discounts are incentives for merchants to provide this in-depth data.
Level 1, Level 2, and Level 3 requirements are discussed in full detail on the REPAY Guide to B2B Payments and Integrated Level 3 Processing.
How to Qualify for Level 3 Pricing?
Not all types of cards or payment methods are eligible for Level 3 discounts. In order to qualify for Level 3, cards must be a purchase or procurement "P-card" used by corporate and government buyers. Wire transfers, for example, are one of the many supplier payment methods that are not eligible for Level 3 discounts.
B2B Level 3 processing rates are not included in flat rate or tiered rate credit card pricing plans. Merchants wanting to receive Level 3 processing rates must be on an Interchange Plus Pricing plan. For review of the interchange rates, processing pricing plans, and a breakdown of the credit card payments process, download our Merchant's Guide to Integrated Payment Processing.
Maximizing Level 3 Benefits
Not every B2B payment solution is equal. Using an integrated payments solution is essential for any merchant looking to process Level 3 payments.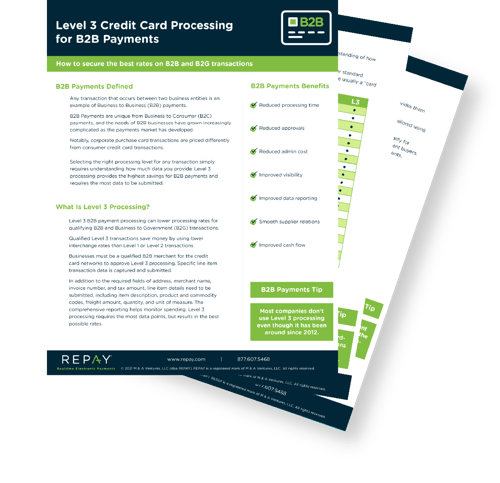 Integrated and automated Level 3 processing solutions pull required data points from the ERP ecosystem without additional labor, manual entry of line item detail, or wasted time. B2B payments with seamless integrations allow information to easily flow where it is needed directly with your payment's provider, accounts payable, inventory, CRM, and other software.
An all-in-one payments provider with Level 3 can be a payments processor and gateway that seamlessly integrates with multiple ERP systems and eCommerce solutions, eliminating redundant fees and streamlining success.
In the increasingly digital age, businesses need to accept payments across multiple channels to meet consumer demand. Omni-channel integrated payment processing can simplify workflows, lessen expenses, and delight modern customers. Level 3 savings for these transactions can be automatically processed when an integrated payment solution is leveraged.
Pitfalls in Securing Level 3 Rates
Submitting line item detail is only one part of the requirements to obtain Level 3 rates. Violating any of the requirements can make transactions ineligible for Level 3 and even downgrade the transaction to a standard rate. This costly mistake could increase the price by 65 basis points.
Don't try to make it alone - a trusted payments provider can be your guide in implementing these and other requirements.
How REPAY can help
When selecting a credit card processor, there are many details to consider. Level 3 processing requires a gateway that is designed to handle Level 3. While some processors might offer you a flat rate, a payment solution with Level 3 discounts and no hidden fees via an interchange plus pricing plan will be the better option financially.
REPAY has a team of payments experts standing by to educate you on integrated payment processing. REPAY is a gateway and payments provider that supports Level 3 processing for US accounts and is trusted by thousands of merchants daily to process payments. REPAY automatically passes along all the Level 2 and Level 3 data with seamless ERP and eCommerce integrations. There is no time-consuming mapping or manual data entry required.
With payment integrations to many leading ERP and eCommerce platforms like Acumatica, AccountMate, Adagio, Sage, SAP Business One, Magento, WooCommerce, BigCommerce, Miva, and more, REPAY is leading the way in the payments industry by providing omni-channel integrated payment solutions and 24/7 live customer support. Don't settle for less than REPAY when it comes to your B2B payment needs!