REPAY was honored with the AccountMate Vertical Solution Partner Outstanding Partnering Award in 2018 for many reasons. REPAY offers the only fully integrated AccountMate Level 3 credit card processing solution. The REPAY and MKT credit card integration offers added functionality and several key features that increase the speed in which AccountMate users process payments, eliminate compliance issues, and drastically lower costs through Level 3 credit card processing. Get data off your local servers, automate your payments to save time, eliminate double entry, reduce your risk with tokenized protection for private data via the REPAY vault, and Level 3 processing that can help you save thousands of dollars on transaction fees. Our REPAY experts are standing by to advise your business on the best steps forward for your organization.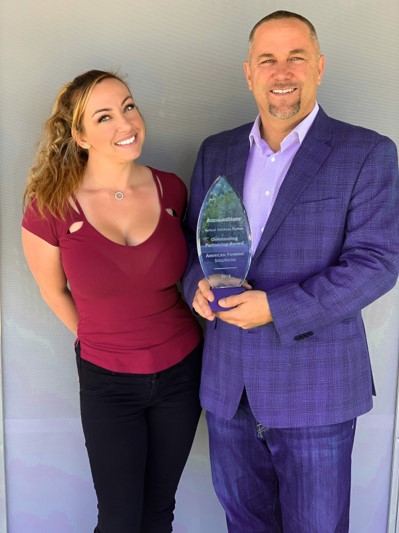 Candra Rader and Jeff Kohl from REPAY accepting the
2018 AccountMate Outstanding Partner of the Year Award
Why REPAY is AccountMate's Award-Winning Credit Card Processing Solution:
Excellent Service – We offer 24/7 live support with our distinguished industry experts in addition to online support. Our customer service is highly acclaimed because we are available when our customers need us.

Partner Program – REPAY is committed to helping AccountMate partners educate their AccountMate customers on credit card processing and how to save time and money. AccountMate partners also have a dedicated channel account manager assigned to them to help accelerate success. Our partner philosophy is simple: We are an extension of your business.
Customer Support – As an AccountMate customer, you'll experience the REPAY award-winning service from the very start. Before you become an REPAY customer, our experts will audit your existing merchant service statements and show you exactly where you will save money. We help ensure that you are PCI Compliant and stay compliant with our free compliance service.

Save Money with Level 3 Processing– Besides offering extremely competitive rates for standard transactions, REPAY will drastically lower your costs with Level 3 business to business (B2B) and business to government (B2G) transactions. Level 3 transactions with business-class cards from Mastercard and Visa have a lower interchange fee that can save you thousands of dollars per year! REPAY average small to mid-sized business (SMB) saves $18,000 per year on merchant account fees.

Level 3 processing offers lower rates for B2B transactions by using the required information collected in Accountmate about the customer. More customer information reduces risk of fraud to the card-issuing bank. REPAY supports Level 3 processing for US accounts.
Seamlessly automated - REPAY automatically passes along the required Level, 1, Level 2 and Level 3 data with seamless integration to AccountMate. There is no time-consuming mapping or manual data entry required. Your business could see saving of up to 43% with no additional work or oversight on your part. Simplify your savings and guarantee the lowest possible rates for your business without interrupting your workflow.
Here is a summary of the data that we automatically send with Level 1, Level 2, and Level 3 processing:

Secure Your Data with Tokenization and the REPAY Vault - REPAY offers a PCI-compliant secure tokenized solution and point-to-point encryption with the REPAY Vault. This eliminates the need for any credit card data to be stored locally on a server. Your customer's credit card data is stored in a tokenized vault in the cloud.
Watch a 5-minute REPAY integration to AccountMate demo:
Ready to get started with integrated payment processing for AccountMate with the 2018 Vertical Solutions Partner Outstanding Partnering Award recipient? Contact the REPAY team a free discovery call to learn more.