Big news! REPAY now supports Sales Order payments for Sage 100 in REPAY ClickToPay, so now you can take payments on sales orders in the online payment portal. What does this mean for you? Well, for starters, it means you can now authorize payments before shipping (hallelujah!). REPAY also supports this functionality for our Acumatica payments integration!

How Does the Sales Order Payment Support Work with REPAY ClickToPay?
New support for Sales Order payments in REPAY ClickToPay gives your company the ability to accept payments during the Sales Order process in Sage 100 or Acumatica, direct from the online payment portal. This means that, instead of having to wait until shipping to process a payment, you can now begin the pre-authorization process immediately when the sale is complete.
Online portal support for Sage 100 and Acumatica Sales Order payments helps you ensure:
Faster payments
Better cash flow
Confidence that your customer will pay
Screenshots of the Sales Order setup in REPAY ClickToPay for Sage 100 Payments: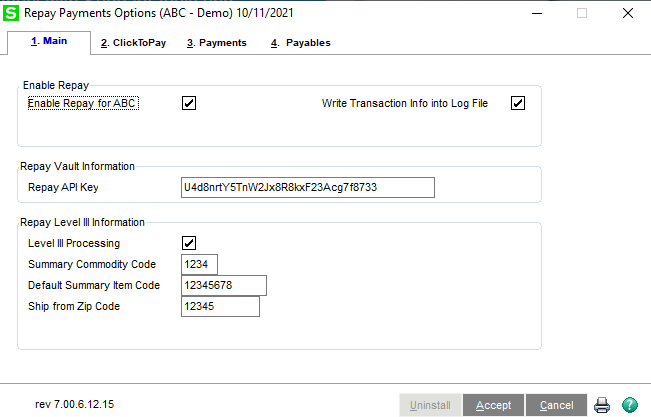 Screenshots of the Sales Order setup in REPAY ClickToPay for Acumatica Payments: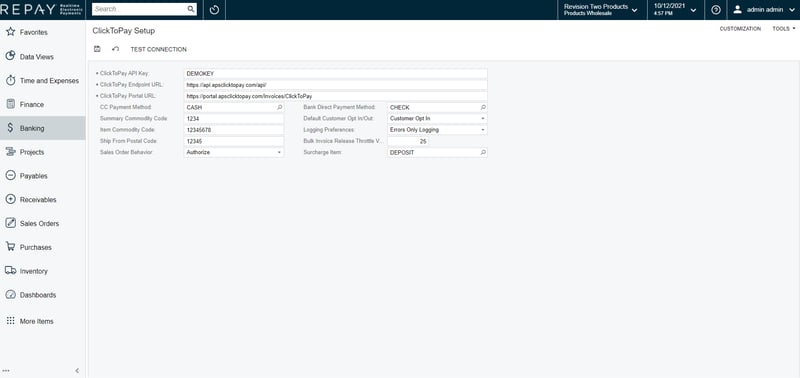 What Is REPAY ClickToPay?
As a Sage 100 or Acumatica user, you know how Sales Order / Order Entry works, but you may not understand how the REPAY ClickToPay online payment portal fits in with your sales order process. Here are the details:
Sage 100 REPAY ClickToPay Demo:
Acumatica REPAY ClickToPay Demo:
Business benefits include:
Convenient, paperless e-invoicing, available online
ACH & credit card support
Seamless integration into your ERP & AR Cash Receipts
Intuitive buyer interface featuring your branding
Flexible payment controls and options
Best of all, with REPAY ClickToPay, installation, setup, maintenance, training, and support is free for Sage 100 and Acumatica merchants who also process credit cards with REPAY – there are no billing limits!
Choose the Payment Solution That Makes You Happy
One of the best ways to increase customer satisfaction is to accept every type of payment that your customers want to use, including check, ACH, credit card, business purchasing card, cash, and more.

There are many payment solutions that can meet this need for you, but a lot of them seem to forget that customer satisfaction is only one-half of the overall payment acceptance equation. Your business is the other half – and you deserve to be satisfied with the payment solution you use.
To increase your happiness levels, it is important that you find a payment solution that meets your needs as well as your customers'. Here at REPAY, we offer a lot more than just this new sales order support via the online payment portal feature. We also offer a wide range of benefits that put your needs first, including:
Reduced payment processing fees and next-day funding available
REPAY ClickToPay online payments portal

to increase cash flow

Flexible ACH capabilities

to cut your costs significantly

Level 3 Credit Card Processing integration for lower merchant fees
Multi-currency capabilities
The latest cutting-edge credit card security tactics
No installation, setup, or maintenance fees
Free PCI DSS compliance assurance
24/7 reporting and live customer service, plus daily automated batch reporting
One of the most efficient Acumatica and Sage 100 credit card processing solutions in the industry
REPAY supports multiple leading ERP and eCommerce solutions to streamline payments and offer an omni-channel experience for users. Learn more about all our integrated payment solutions or contact us today for a free discovery call to get started!