Acumatica Summit is a "can't miss" event that every Acumatica user and partner should attend. The event provides a great opportunity to network with the Acumatica community members and to learn about solutions that can help you get even more out of Acumatica. REPAY was front and center at this year's event as a Premier Sponsor, showcasing our integrated payments for Acumatica that help users reimagine their AP payment and AR payment processes.
The theme for Acumatica Summit 2023 was Imagine, Discover, and Celebrate – and these themes were on full display during the event.
We pulled together a few highlights for you:
Imagine

Hillary Heath from REPAY was on hand to deliver the session: "Next-Generation Payments: Pay and Get Paid." It was one of the most requested sessions of Acumatica Summit and had hundreds registered to attend.
During the session, Hillary described how traditional payment processes are holding businesses back. Over the course of the session, businesses still using traditional payment processes could imagine new ways to digitally transform their payments and business operations with REPAY.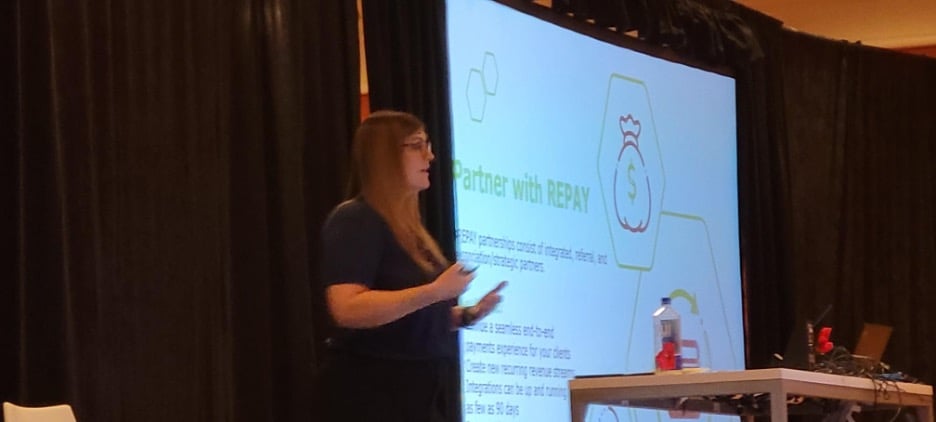 Demonstrating the fully integrated payments solution from REPAY, Hillary not only outlined ways to streamline the payments process, but also how to:
Process both AR and AP payments from a single solution
Maintain cash flow and improve operating efficiency
Get paid faster with online payment portals
Minimize risk and optimize rebates with virtual cards
After multiple follow up questions from audience members, attendees left the session with a clear understanding of how to digitally transform the payments process and ultimately differentiate their business from the competition.
Discover
Acumatica Summit is a unique opportunity to network and discover new connections within the Acumatica community. It's also a rare chance to discover new solutions first-hand that can help your business get the most out of Acumatica. This was kicked off by the REPAY team attending the acu-connect session to learn more about how to get engaged with value added-solutions for Acumatica and stay connected to the community throughout the year. REPAY is a founding member and Charter Sponsor for acu-connect.
Our payment experts helped Acumatica community members discover how REPAY could work specifically for their business. Whether it's simplifying payments and AR processing, streamlining the payment process in AP, or providing your customers with easy ways to pay invoices with the REPAY Online Payment Portal, REPAY had solutions - which booth visitors discovered during personalized deep dives. We also provided attendees with an easy way to continue the learning by allowing them to download our payments collateral kit where they could access product demos, datasheets, case studies and more!
The REPAY team also got the word out to the larger Acumatica community while at Acumatica Summit 2023. David Harper and Liz Anderson both sat down separately with Bob McAdams and Darcy Boerio from the Enterprise Software Podcast to discuss the impact that modern payment processes can have on your business and review how acu-connect is growing in the Acumatica channel.
You can listen to the podcast discussions here.
Celebrate
Acumatica Summit is also a chance to celebrate the success of Acumatica and its partners, customers, and solution providers - and this year's event was no different. The team at Acumatica presented numerous awards recognizing members of the community for their accomplishments.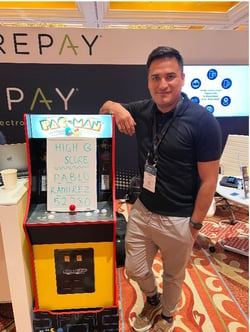 The celebration culminated with the "Celebration Dinner and Party" which was complete with live music and cocktails.
We also celebrated REPAY style! Our booth included a PACMAN machine this year that was awarded to the highest scoring player during Acumatica Summit 2023.
As you can see, Acumatica Summit is a valuable opportunity for your team to learn how to get more from Acumatica. It's also a unique event to connect with the Acumatica community and learn how to address business challenges facing your business. We recommend that if you missed this year's event, that you save the date for January 28-31, 2024! You won't want to miss Acumatica Summit 2024!