REPAY is excited to announce that our integrated payments solution has been recognized once again as an Acumatica-Certified Application (ACA) for 2019 R2. Acumatica, the world's fastest-growing cloud ERP company, has been recognized as a Visionary in Gartner's Magic Quadrant for Cloud Core Financial Management Suites for Midsize, Large and Global Enterprises 2019, as well as in The Gartner Magic Quadrant for Cloud ERP for Product-Centric Midsize Enterprises. We could not be more thrilled to continue to work closely with Acumatica and provide seamless payments functionality for its users.
Acumatica is a comprehensive, browser-based Cloud ERP solution optimized for ease of use, adaptability, mobility, speed, and security. The ACA title is only awarded to those partners that Acumatica deems "outstanding", whose applications have met the highest standards set for Acumatica integration and functionality.
"Customers who want to stay competitive need flexible, responsive technology to execute their long-term business strategies," said Christian Lindberg, Vice President of Partner Solutions at Acumatica. "Our ACA label is built to help customers find applications capable of delivering that. We're proud to recognize REPAY application as an Acumatica-Certified Application. It masterfully utilizes the Acumatica platform to meet customers' growing business demands."
REPAY was able to become an Acumatica-Certified Application because of our demonstrated commitment to quality by passing the Acumatica software test and aligning to future Acumatica roadmap releases. Receiving the Acumatica 2019 R2 certification is a testament to our continued dedication to providing the best software solutions for our merchants, and always providing a seamless experience within Acumatica for every update. Acumatica has once again recognized the hard work we put in for our customers and partners behind the scenes to ensure that our seamless integration is true to its promise and provides a simple, flawless way for business owners to save time and money.
The key to the REPAY synergy with Acumatica lies within our focus on integrated solutions. Using an Integrated Payment Solution for Acumatica can offer tremendous benefits for Acumatica users, including:
Reduced processing times by eliminating manual entry
Streamlined operations and lower admin costs
Increased data security, simplifying PCI Compliance
Improved visibility and reporting
Better cash flow and customer experience with an online payment portal
Savings on B2B transactions with automated Level 3 Processing
Seamless functionality with Acumatica 2019 R2
All of these benefits come in addition to the white glove service, with 24/7 live customer support, always free PCI Compliance assistance, and our proven 99% uptime because we never want our merchants to miss a sale due to payment processing challenges.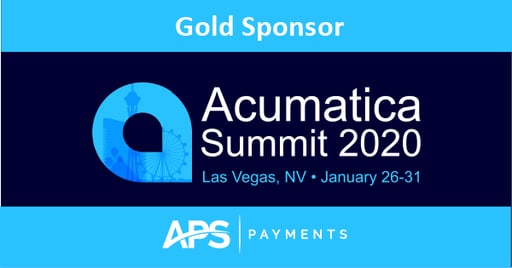 Connect with REPAY at Acumatica Summit 2020 in Las Vegas to learn more about our integrated payments solution in person! Stop by booth #10, and learn how you can enter to win cash prizes!
About REPAY
REPAY is leading the payments industry by providing 24/7 award-winning customer support, and up-to-date payment technology for thousands of merchants. We seamlessly integrate into Acumatica and multiple other leading ERP, eCommerce, POS, and Mobile applications to provide merchants an omni-channel solution! Our exclusive REPAY ClickToPay functionality for Acumatica allows your customers to click a button and pay online instantly!

If you won't be able to attend the upcoming Acumatica Summit in January 2020, you can stay up-to-date with the latest insights and event for Acumatica at acu-connect.com. The goal of the acu-connect community is to provide one centralized location on everything Acumatica to help educate you and facilitate networking in the ecosystem. Get engaged today!