Acumatica Summit 2022 empowers attendees to Collaborate, Innovate, and Accelerate like never before – and the excitement starts soon! Are you ready to head to Las Vegas on January 23-28, 2022? With over 2,000+ attendees, the 80+ sessions, plus all the great networking events (including our Summit After Dark Party) you've been craving... this year is THE year not to miss!
REPAY is once again showcasing our integrated AR & AP Payments solution for Acumatica, you can get a quick glimpse of our latest functionality for AP Vendor Payments by watching this 5 minute demo:
Before you pack your bags, and prep to learn all about our Acumatica Payments integration at booth #74, there are a few things we think you should know before you go. Ready?
Network with REPAY at Acumatica Summit
Learn how to get engaged with the acu-connect community, meet the community sponsors, and hear from the Board about what is new and exciting. Awards will also be handed out to dedicated community members!
acu-connect session

Date: Sunday, January 23rd @ 3:30 PM in Meursault 1 & 2
Title: Get Involved in acu-connect and Expand Your Acumatica Network
Discover the benefits REPAY payment processing offers Acumatica users with our integrated AP & AR Payments.
REPAY session

Date: Monday, January 24th @ 4:00 PM in the Castillon Room
Title: Why AP & AR Payments Are Better Together
Remember to add these two (obviously the most important) sessions to your personal schedule at Acumatica Summit. You can view all 80+ sessions on the Agenda.
Don't Miss THE After Party
This year, REPAY is teaming up with BigCommerce, SPS Commerce, and ShipStation to host the biggest after party of the conference: Summit After Dark 2022!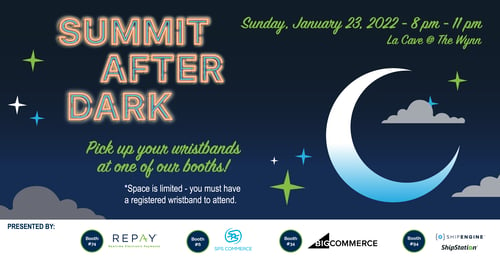 At 8:00 PM on Sunday, January 23, right after the Welcome Reception. Come network, hang out on the patio or at the bar, enjoy some hors d'oeuvres and the premium open bar at the beautiful "La Cave" in the Wynn.
Get your wristbands by stopping by one of our booths during the welcome reception. Spots are limited, and you must have a wristband to attend.
Stop by REPAY Booth #74 to Learn How You Could Win a Free Trip
REPAY and 9 other ISVs are teaming up at Acumatica Summit to send you on a scavenger hunt to collect all the passport stamps at our booths. For those of you who will be experiencing the Summit Passport for the first time, here is what to do:
Stop by REPAY Booth #74 in the Marketplace to pick up your passport & get your first stamp

Find the following participating ISVs

and collect stamps:

Drop off your completed passport at any participating booth to be entered to win
Read full Trip Terms & Conditions
Completing your Acumatica Summit passport won't take too long – and it'll be fun! Each year, we hear from attendees who look forward to filling out their passport because they get to check out all the great swag at each booth and meet lots of Acumatica subject matter experts.
Speaking of Acumatica subject matter experts…the REPAY booth will also give you the opportunity to meet Robert Waite, our resident Acumatica MVP and Acumatica Developer of the Year. He has outstanding knowledge about the Acumatica Cloud xRP platform and would love to chat!
Get One-on-One Information at Acumatica Summit 2021
Get all your questions answered – and develop important contacts for all those other questions you completely forgot to ask because you were distracted by the excitement of the conference. In one short conversation, you could be on your way to:
Streamlined AR and AP Vendor Payments from one provider

Tokenized credit card data simplifies PCI Compliance

Daily, automatic batch reporting

Acumatica Level 3 credit card processing for B2B transactions

EMV chip functionality

Multi-currency capabilities

Ability to add a new credit card on the Sales Order screen

Free ClickToPay integrated online payment portal functionality

ACH processing

Omni-channel payments experience with eCommerce integrations

No installation, maintenance, or setup fees

24/7 live support
Watch our other payment demos to see all our features in action:
The REPAY team looks forward to seeing you in Las Vegas and helping you with all your Acumatica payment needs!