REPAY will be a Gold Sponsor for ASUG Best Practices: SAP Business One (formally known as the Biz.ONE Conference) Oct. 27‒29. The virtual event has content specifically designed for the SAP Business One ecosystem.

The event will showcase SAP thought leadership insights and give you an exclusive look at upcoming functionality and roadmaps. Hear case studies from leaders and experts who are adapting to today's evolving business climate by leveraging SAP Business One. Register to access best-practice presentations, demos on the latest solutions and add-ons, and interactive panel discussions. Plus, don't miss Hillary Heath's presentation on Thursday, October 29 starting at 1:35 ET.
REPAY is excited to showcase our REPAY ClickToPay feature for SAP Business One! Merchants can now take advantage of one of our most successful and most requested ERP features on the SAP Business One platform. Read more about REPAY ClickToPay for SAP Business One.
Join us online for free at ASUG Best Practices: SAP Business One!
Date: Tuesday, October 27‒29, 2020
Time: 1PM PST
As a sponsor, REPAY is excited to share our omni-channel payments industry knowledge for this event with attendees to provide continuing education to everyone online. We are particularly looking forward to our session on October 29th entitled: "Cash or Card? What the Rise in Digital Payments Means for B2B Financials" at 1:35pm ET, which will be presented by REPAY' SAP Business One Channel Manager, Hillary Heath.
The agenda is packed with lots of great Sessions, like the above mentioned REPAY session!
Learn why REPAY is considered a G2 Crowd High Performer and read more about our integrated SAP Business One credit card processing on our website to join the integrated payments revolution. See below to learn more about our latest and greatest features, including our SAP Online Payment Portal: REPAY ClickToPay!
Watch this REPAY ClickToPay for SAP Business One Demo Video:
Download this SAP Business One Datasheet: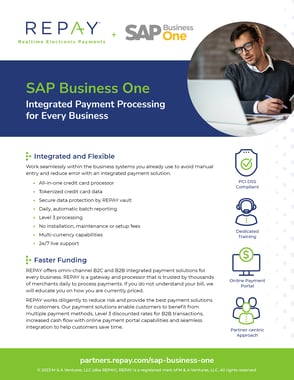 Want to continue your learning after the event?
Be sure to register for our Virtual Coffee Chat in December. Join us on Friday December 4th, 9am PST for casual conversations and stories around how companies can innovate, overcome, and thrive in a time of economic uncertainty. Register now to save your seat for this open community forum for SAP Business One customers and partners. We can't wait to see and hear from you!
Register today for ASUG Best Practices: SAP Business One—the complimentary virtual conference designed specifically for the SAP Business One ecosystem. We will see you there!