REPAY provides innovative solutions that simplify and speed up how you collect Accounts Receivable (AR) payments from your customers. Now, REPAY takes it to the next level making it easier for Sage 100 users to pay vendors too with our Sage 100 Accounts Payable (AP) Vendor Bill Payments Automation solution. Natively built into Sage 100, we've digitized the entire outbound payment process, eliminating paper checks and remittance files and increasing payment data security. Users can even earn revenue for their company through rebates, simply by paying bills! Read the full press release.
Tell us if this sounds familiar
Vendors send you bills, and your Accounts Payable team generates manual spreadsheets requesting approval to pay each one – or still sends out paper forms to approve payment. Those responsible to approve bills happen to be out of the office, or your approval request gets buried with other overlooked tasks in their inbox, or even worse they lose the request all together.
Now, your Accounts Payable team is spending just as much, if not more time, tracking down approvals instead of making payments.
REPAY has the solution
Our new AP Vendor Payments automation platform simplifies the vendor approval and payment process. Instead of a slow, manual approval process filled with delays, bills needing approval are organized in an easy-to-use web portal. Those responsible to approve them are notified when bills are waiting for approval – which they do conveniently from anywhere and at any time. What's more, during the approvals process they can approve individual payments or use a batch approval process to further save time. Download the datasheet to learn more: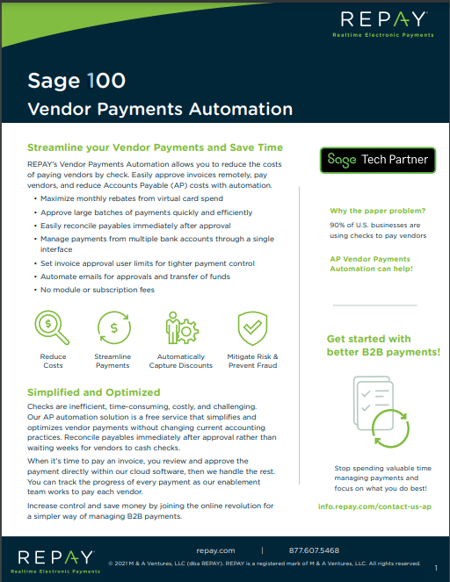 Convenient, fast, and easily reconcilable
The convenience doesn't end there. REPAY also simplifies the vendor payment process. Instead of printing or handwriting paper checks that require postage and physical delivery, vendors are easily paid with the click of a button.
We take on the task of setting up each of your vendors on our extensive payment network. Whether a vendor requires payment via ACH or virtual card, we take care of it and transfer payment from the account of your choice – all in a single business day. We can also pay by check if digital payments are not accepted by your vendors.
Not only do your vendors get paid faster, but you also get a complete record of the transaction and your accounts can be reconciled the next day – and for Sage 100 users our integration automates and makes the reconciliation process effortless.
"Automation led to 60% reduction in missing invoices and a 59% decline in delayed payment and reimbursement approvals."
~PYMTS.com
Your payments now pay you too!
With REPAY AP Vendor Payments automation, you increase your virtual card spend with every vendor payment - increasing your monthly rebate. So instead of paying for checks and postage, not to mention dealing with postal delays, now you get paid to pay your vendors.
So, whether you are making B2B payments or collecting them, REPAY is your full-service payments provider. Contact us today and let us show you how to bring true digital transformation to your Accounts Receivable and Accounts Payable processes that will save you time, increase efficiency, and help you maximize rebates. Learn why AR and AP are better together and help your business:
Speed up payments and fund settlement
Eliminate costly and time-consuming paper processes
Increase employee consistency, accuracy, and efficiency
Enhance the customer and vendor experience with easier ways to pay
Mitigate risk and prevent fraud
Accelerate the AP and AR payment flow with Integrated B2B Payments from REPAY today!