Make it easy for customers to pay and stay with your very own mobile payment app. People use their smartphones for so many things other than making actual calls. In a late 2017
Statista
survey, almost one-third of smartphone owners reported that they use their phones to make calls either occasionally, seldom, or never.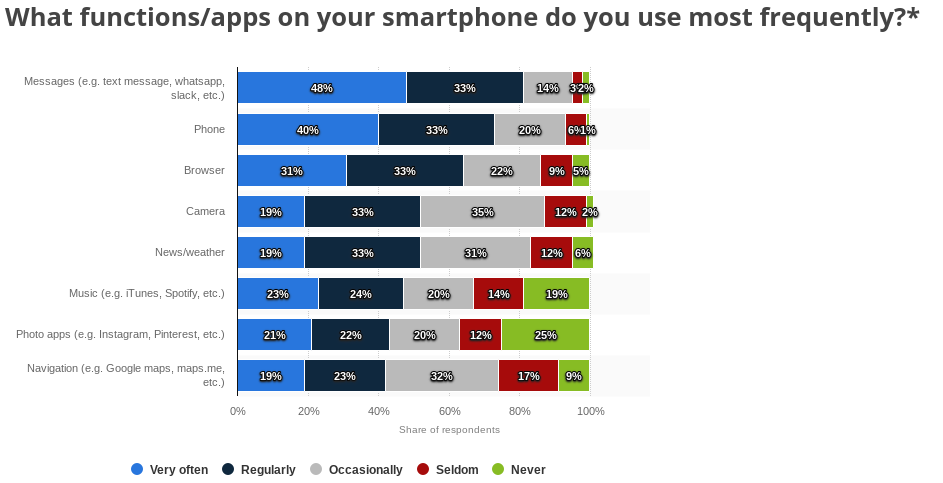 Yet, almost two-thirds of smartphone users use their mobile browsers regularly and more than 70% use the messaging functionality regularly or very often. Aside from texting, there are many mobile apps in the Messages category, including Slack, WhatsApp, Asana, Basecamp, Telegram, Discord and more.
The bottom line: people are on mobile apps. A LOT. This includes your customers. In fact, eMarketer conducted a fascinating study in late 2017. The study concluded that people are on their mobile phones for longer periods each day (no surprise there). The surprise, however, was that the time spent in mobile browsers is declining and time spent using mobile apps is increasing. At the same time, the number of apps people are using is dropping. People all over the country, including your customers, are on their phones more, browsing less, and using fewer apps more frequently.
Now is a Great Time to Launch Your Own App
This recipe for more concentrated app usage is an opportunity for your business to make it easier for customers to pay and to encourage your customers to stay with you for the long run. You can do that with your own mobile payment app powered by REPAY technology.
Other than streamlined payments, what are some additional reasons that a mobile app would be useful? Here are a few big benefits to consider.

Value Added Services
Let's say you are a consumer lender, and on a typical 3-year loan, most of the defaults occur between months 12 and 16. One unique and cool thing you can do with a mobile app is start a loyalty program that encourages on-time payments by offering prizes, cash, reduced payments or lower interest rates on future loans. After all, if borrowers pay the loan off and nothing else changes, wouldn't you want them to borrow again? And when would you want to implement such a plan? Month 1 or maybe month 8 or 9 leading up to that common default period? It's ultimately up to you, but a mobile app gives you control and a direct line of communication to your customers.

Customers Are Loyal to Apps
In our previous article, Mobile Apps Make Payments Easy, we stated that the most popular payment app is the Starbucks app with over 20 million users. Starbucks has some great features, including a loyalty program, an e-wallet to make payments simple and easy, online ordering, and well-timed and engaging push notifications.
Customers are savvy, and they expect
excellent customer service. Having your own app shows your customers you are
trying to connect with them and serve them better. Fifty percent of marketers in a
recent study listed either Improving Customer Service or Fostering Customer Loyalty as the #1 reason for having a mobile presence. It's easy to see mobile apps are powerful retention tools.
Is customer retention an issue in your business? An app could be the answer.
Partner on It Instead of Build It
Many of the businesses we work with understand the value of having a mobile app. The hard part is getting started.
We have the perfect solution - the REPAY White Label Mobile App. Since it's a white label solution, our merchants can use their own logos and brand colors, giving them more credibility with their customers. The app is customizable in many ways – merchants can choose payment options and field configurations and give their customers the option to view balances and payment histories. Customers experience the ultimate convenience of paying through their phones whenever and wherever they choose, and merchants get paid faster and experience greater retention rates and higher customer satisfaction. If your processor doesn't offer an app or you just want to take a look and see how it works, you can request a demo today and take it for a test drive. You won't be disappointed!