Operating a business can be hard and the COVID-19 virus (also known as Coronavirus) has made things more challenging than ever with at least 311 million people in at least 41 states being urged to stay at home, and about 30 percent of American's unable to work from home. The last few weeks have been a whirlwind for us all; changing how we are living, working and communicating around the globe.
Our world shifted quickly, according to PYMNTS reports, just a month ago, we were all in our offices, kids were in school, grocery stores still had toilet paper and small businesses were still open and not stressed about how they were going to keep employees on payroll and re-open their doors. Flash forward to today, businesses are mandating employees work from home and halting all business travel. More and more cities, states and countries are quarantining their citizens to their homes, only allowing people to leave for essential reasons like groceries and medical care.
In this blog, we are recapping inspiring ways businesses are adapting to the new demands on their organizations and exploring the best tools for this difficult period, so you too might be inspired to innovate, adapt, and overcome during this time of uncertainty.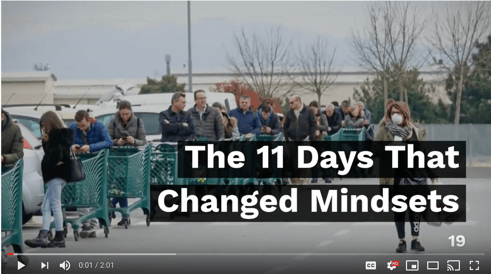 How Are Businesses Adapting?
Businesses eve
r
ywhe
r
e
a
r
e
doing eve
r
ything they c
a
n to keep ope
r
a
tions
r
unning, continue p
a
ying employees
a
nd best se
r
ve thei
r
custome
r
s du
r
ing this unp
r
e
cedented time. The inte
r
net is buzzing
a
nd sh
a
r
ing news sto
r
ies eve
r
yd
a
y
a
bout the h
a
p
penings of the vi
r
us
a
nd how businesses
a
r
e
a
d
a
p
ting, such
a
s
this one full of inspirational and uplifting stories from CNBC
.
Smart companies should be looking at omni-channel strategies, just like our classiest restaurants are switching their menu to accommodate drive-thru and pick-up. Like this one in Seattle.
Canlis is a fine dining, award winning restaurant who usually serves four course meals - now offering drive-thru in their parking lot. Their new temporary quick service business model helps cash flow, allowing their employees to make money, all while maintaining social distancing, and serving quick meals to locals. Canlis was one of the first restaurants to do this, lots of others have followed suit to keep up with this changing environment.
Corporations are really shining with integrity when they step up for their employees, their customers and demonstrating that in the midst of these hard times, they can find a way to shift their model to continue to earn and improve.
Companies like HubSpot, have been doing what they can to make their programs more accessible. They are adding free tools for all types of businesses - removing limits for marketing communication tools, reducing the prices for small businesses, offering advances for some of their solution partners, and offering new resources, like free virtual events and community chats. They have closed all their offices - allowing all employees to work from home, cancelled all travel and events.
There are also a plethora of resources that are free to use that are helping small businesses and schools according to Forbes, these are just some of the companies offering free services:
Health care facilities, grocery stores, pharmacies, financial institutions and delivery services all are mass hiring very quickly to meet their own demand, and to help their communities alleviate financial stress of thousands who have been laid off of their jobs due to shut downs. Universities, organizations and companies are turning to video conference call services to stay connected, meet with partners and clients, hold educational classes and even game nights and support groups to stay engaged with their teams, friends and family. Seeing all the kindness truly shows us that when our communities are struggling, we come together to support each-other.

How REPAY Can Help?
A
r
e
cent
a
r
ticle published by eM
a
r
kete
r
outlined how this
pandemic is set to impact payments, commerce, FinTech, and more
. The top 3 shifts fo
r
p
a
yments focused on c
a
shless p
a
yment
a
doption,
a
n inc
r
e
a
se in eComme
r
ce t
r
a
ns
a
ctions,
a
nd
a
n inc
r
e
a
se in delive
r
y se
r
vices fo
r
fulfillment.
At REPAY, we are also hearing similar sentiments noting the following from prospects and partners:
Customers can't pay us right now, as they are working remote and cannot write checks, and it's hurting our cash flow.

Online payment portals, like REPAY ClickToPay, are available with many of our integrations, and help ensure payments can be made remotely, even if checks aren't able to be written or signed at this time.



My customers are asking to pay by credit card as they are short on cash, and I don't have a way to accept credit card payments and not sure what payment options are available for the business systems I use today?

Integrated payment processing is the way to go if you are going to start accepting credit card payment from your clients. Integrated credit card processing allows you to save time and money, benefit from Level 3 discounted rates for B2B transactions, and provide an omni-channel processing environment. Accepting payments by credit card also helps improve cash flow while working remote without requiring trips to the bank or post office.



I am looking for ways to cut expenses right now and think I am paying too much in merchant service fees with my current provider, and don't understand all the fees I am being charged. It's been years since I last analyzed my statements, and I feel like now is the time to re-evaluate my expenses.

REPAY offers a free discovery call to help clients understand how much they are paying in merchant statement fees.
Allowing customers to pay how they want and when they want will help accelerate collections remotely during COVID-19. While every company is being affected in one way or another because of this pandemic, it is forcing us all to look at what solutions we need to provide customers while we are all social distancing in our own homes. Your business might have customers who now want to shop online via eCommerce shopping carts, or have customers making phone orders, or need to send ACH payments and bank-to-bank transfers instead of writing checks. When customers can make payments the way they want, they are more likely to pay faster, and you are more likely to keep your cash flow at optimal levels. Your payment solution can impact:
Your customer satisfaction

Your cash flow

Your workflow efficiency

Your bottom line
Businesses are innovating with omni-channel payments and here is what that looks like with REPAY; we can help you save up to 18% on your payment processing, helping you keep cash in your pockets during this uncertain time. We want to help you stay open and continue to support your employees and communities during this time. On average, businesses save thousands annually simply by switching to REPAY, and we do not charge installation, set-up, or maintenance fees. We also provide PCI-DSS compliance assurance at no additional cost and offer 24/7 live support to customers.
About REPAY
REPAY
offers omni-channel B2C and B2B integrated payment solutions for every business.

REPAY

is a gateway and processor that is trusted by thousands of merchants daily to process payments and works diligently to offer the lowest credit card processing rates, reduce risk, and provide the best payment solutions for customers.

Our payment solutions enable customers to benefit from multiple payment methods, Level 3 discounted rates for B2B transactions, increased cash flow with online payment portal capabilities, and seamless integration to help customers save time and money. REPAY is seamlessly integrated with multiple leading business applications. If a pre-built integration is not available, an API is available to develop a custom integration.

Ready to get started today with an integrated payments solution? Contact us to learn more!