REPAY is excited to announce that CRN®, a brand of The Channel Company, has named two channel leaders, Liz Anderson and Patty Benitez, to the highly respected Women of the Channel list for 2021. This annual list recognizes the unique strengths, vision and achievements of female leaders in the IT channel. The 2021 Women of the Channel list acknowledges women from all over the IT channel, including vendors, distributors and solution providers.

The women honored on this year's list pushed forward with comprehensive business plans, marketing initiatives and other innovative ideas to support their partners and customers, helping them through the uncertainty brought on by the global COVID-19 pandemic. CRN celebrates these exceptional women for their leadership, dedication and channel advocacy.

Liz Anderson has dedicated over 20 years of her career to her passion for channel marketing and sales, and this is the fifth consecutive year she has made the CRN WOTC list. She has a unique understanding of what is needed to engage and motivate partners and drive mutual success. Liz currently oversees all aspects of partner marketing for all REPAY portfolios and leads a team that delivers world-class strategy and execution of programs that drive demand and accelerate partnership sales. Read more about the CRN WOTC 2021 recognition for Liz Anderson.

Patty Benitez also brings over 20 years of demonstrated success in the enterprise software and technology services industry, converting market opportunity into profitable growth, and this is the third consecutive year she has made the CRN WOTC list. Her primary objective is to ensure partners are equipped to deliver extraordinary value to mutual customers. Patty currently manages the Acumatica channel partnerships and is also the President of the Board for acu-connect, a partner driven community that facilitates learning and sharing from subject matter experts in the Acumatica ERP channel. Read more about the CRN WOTC 2021 recognition for Patty Benitez.

The 2021 Women of the Channel list will be featured in CRN Magazine on May 10th and online at www.CRN.com/WOTC.
Why Partner with REPAY?
You have clients and they have payment processing needs. Let us be your go-to payments industry experts! Even when you are not available, our 24/7 merchant support is. REPAY integrates with over 100 leading software platforms to increase workflow efficiencies, and we are passionate about fanatical customer service. We help you partner for success and provide multiple benefits to our partners:

Benefits REPAY Offers Customers:
Reliability: Proprietary platform delivers high performance and reliable system availability
Expertise: As payment experts, we help clients and partners navigate payments and the ever-changing rules and regulations
Innovation: Omni-channel payment solutions enable 24/7 payment acceptance
Service: U.S.-based customer service is available 24/7/365 and dedicated boarding/implementation teams get solutions up and running quickly

Our partner philosophy is simple: we want to be an extension of your team! Consider joining our partner program today and we will help you Integrate, Acquire, Retain, and Monetize payment needs for your clients!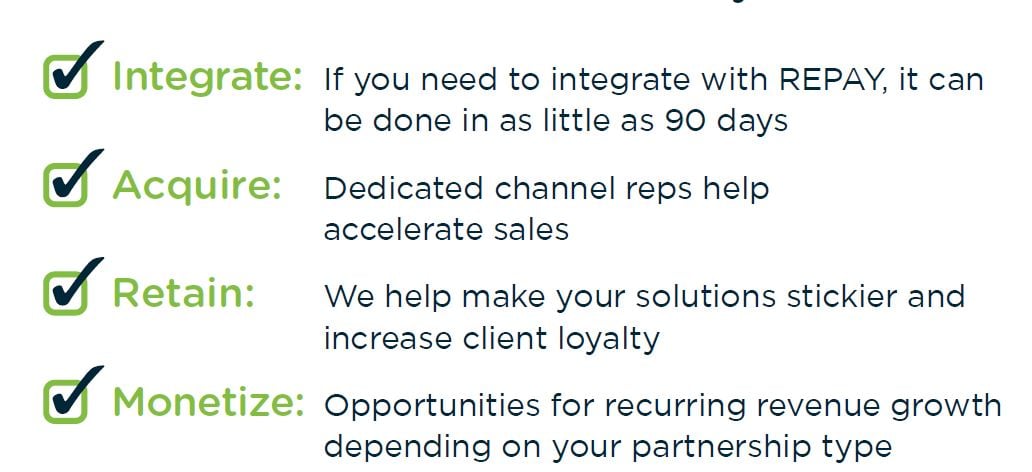 Contact us to take your payment needs to the next level with our partner program. You can learn more about the benefits of partnering with REPAY by downloading our Partner Program Overview, or by contacting our team to learn more!