More people are using mobile apps to pay for more items – from morning coffee to car notes to rent – than ever before.
Most of the money that moves around our economy is digital. The Federal Reserve estimates only about 11% of all dollars are in their physical form. This means almost 90% of them are electronic, digitized, and sitting on a ledger somewhere. In 2018, of the US M2 money supply of $14.4 trillion, only $1.7 trillion was in physical cash.
Mobile payments are a big part of this digital trend. Mobile is a growing method of payment acceptance for small businesses, too. This Statista chart shows how many small businesses were accepting mobile payments as of October 2017.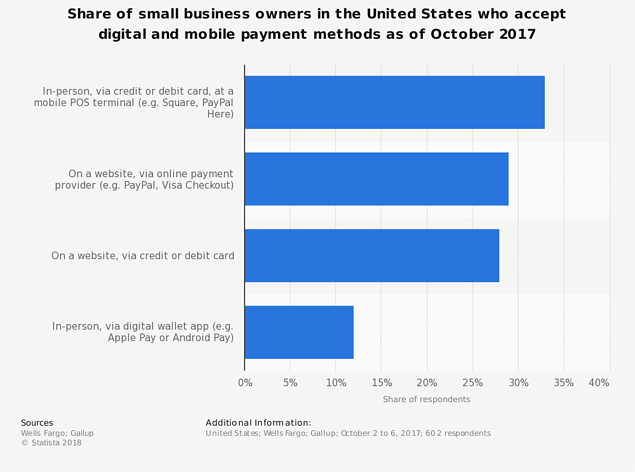 In 2017, ⅓ of businesses accepted mobile or digital payments inside the store. Fewer (less than 30%) accepted these payments online. In person, digital wallet apps (like Apple Pay) were under 15% acceptance.
It's not just millennials who use these new payment services. Between the millennial generation, the tech-savvy, and those who are unbanked/underbanked, mobile payments are in high demand. Not accepting mobile payments could be a huge missed opportunity for your business.
Mobile app technology lets your customers pay you easily and quickly. And offering convenient mobile app payments could be a huge differentiator for your business, too.
Payment Apps Work with Your Existing Payment Processing
Businesses can access more of those digital dollars from customers through mobile payment apps that are compatible with your existing payment processing. Mobile payment apps, whether it's Apple Pay, Zelle, or the most popular payment app, the Starbucks app (with almost 21 million users), are making payments easier.
If you sell to consumers, wouldn't it make sense to include a mobile app as a payment option? It's fast and convenient for you and for your customers.
The good news is many tech-enabled payment processing firms, like REPAY, can include app payments as part of your overall plan to accept payments from customers. We can white-label our app so it's uniquely customized and branded to your business. You can collect payments 24/7/365, build brand loyalty and interact with your customers through push notifications on your very own mobile app.
Beat Your Competitors with App Payment Acceptance
In a 2017 survey of popular payment methods, in-store payments were the most popular, yet only accounted for 40% of transactions. This means that all forms of digital payments accounted for the other 60%.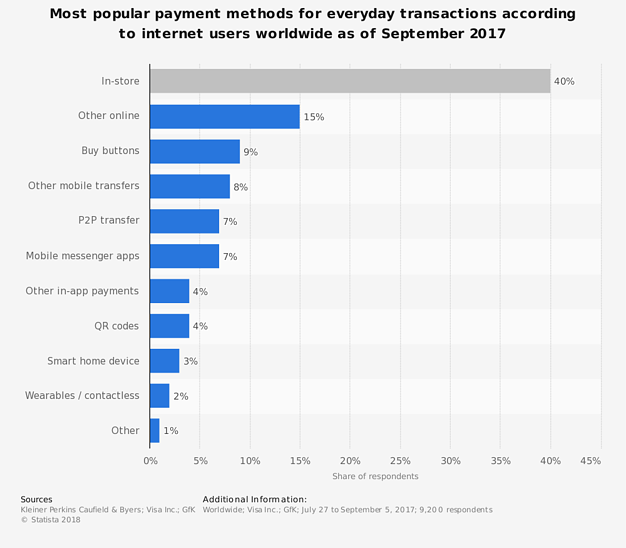 If you have tech-savvy customers or a customer base with high smartphone penetration, you can get a leg up on your competition if you include some of these digital payment categories, such as mobile app payments, mobile messenger app payments, QR codes, or contactless payments. Many of these payment methods can be added to your existing payment processing without much hassle.
Is Your Business Ready for Digital Payments?
The days of only needing to slide a Visa or Mastercard into a physical terminal to process payments are over. Digital payments are here to stay, and they come in many forms. Whether it's through Text to Pay, QR codes or a mobile app, your business needs to be ready. You can add these payment methods to your business with little effort, and in turn, you'll give your customers more options and you'll get paid faster. That's a win-win in our book.